63-49 = Records for CHW & MIN
.
Tied. Shall we take a look at this 3 game match up?
Game one: Tonight @ 7:10 (Central Time)
Twins @ Chicago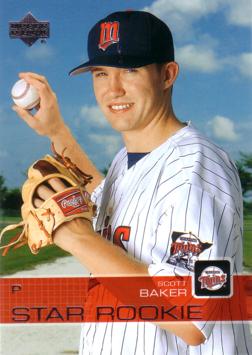 Scott Baker against Freddy Garcia.
Hmmmm.... Scott Baker is rocking a 5.77 ERA vs. Chicago. Freddy Garcia is rocking a 3.73 ERA vs. the Good Guys. Baker has gone 4-5 with a 4.92 ERA in his last 10 outings while Garcia has gone 5-1 with a 4.14 ERA in his last 10 outings, including a no decision against the Twins.
Game two: Wednesday @ 7:10 (Central Time)
Twins @ Chicago


Glen Perkins against John Danks. Perkins is.... wait, what the fuck? Glen Perkins? I'm sorry. I think I must have just looked at the probable pitchers from 2009. No, no, I read right. Glen Perkins is set to make his first start of the year tomorrow night. Maybe I'm remembering wrong, but it was my understanding that Glen Perkins: a). Hates the Twins; b). Is hated by the Twins & c). I honestly didn't even think he was still on the 40-man roster. So, this is all I could dig up about recent G.P. news.... "I'm no dummy"
Anyway, last year Perkins went 6-7 over 17 starts with a 5.89 ERA. Not exactly something you'd want to write home about. In 2008, he went 12-4 over 26 starts with a (slightly) more respectable 4.41 ERA. As far as Danks? He's 6-3 with a 3.33 ERA over his last 10 starts, including a win over Minnesota. Keep in mind, however, that he gave up 6 earned runs in that game against Minnesota. Something was clearly going terribly wrong with our defense that we weren't able to win that game.
I'm not entirely sure what we should expect from Glen Perkins, but I suppose it should be interesting. Here's hoping Danks gives up 6 earned runs tomorrow.
Game three: Thursday @ 7:10 (Central Time)
Twins @ Chicago
(Sketch Artist's Depiction)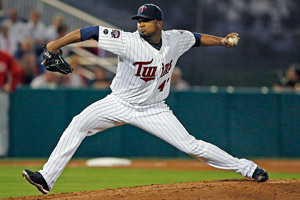 Francisco Liriano
against
Gavin Floyd
. Liriano is 4-4 over his last 10 starts with a 3.90 ERA, including a win over Chicago where he allowed 2 earned runs and got 8 strikeouts over 7.2 innings pitched. Floyd is 6-1 with a 1.10 ERA over his last 10 starts, including a loss against the Twins where he allowed 1 earned run over 5 innings.
This entire series will have excellent match ups. Obviously, based on his last 10 outings, Floyd is a force to be reckoned with. Don't let that scare you, boys. Frank is all over that shit.
And now onto some lighter stuff...
The colorful White Sox manager is in the spotlight for comments about supposed favoritism toward Asian players, but it isn't the first time he's had something to say.
2006: "I very much love the people and the fans of Chicago, because they pay me very much to play a baseball manager in Chicago, even though I very much hate the people and fans in Chicago"
2006: "I don't give shit about the home-field advantages for the World Series. You know what I care about? Where the fuck is the Smash Mouth? Why aren't they here for singing the 'All Star' song? I love that shit"
2007: "I love Dustin Pedroia. He is very good hitter. And he has a strong back, so he could be climbed up on and I sit on his shoulders and ride around on him like riding a little horse that loves me and eats apples and I have to pitch around because he is a good hitter"
2008: "I never say one bad thing about those stupid fucking Cubs fans. Not a single word about those mother-shitting pieces of fuck"
2008: "If we win the World Series, I will quit baseball and run for mayor mostly on a campaign platform of minimizing the city's budget, while still raising revenues with strategic tax plan for Chicago businesses"
2009: "Wrigley Field makes me puke. When I eat a little bit of the ivy on the wall it make me puke barf everywhere"
2010: It's not the fair for Japanese players have the interpreter. I want the interpreter so I can understand what the fuck it is I am talk about"